Catalogue - HIFs
HIFs (Heterogeneous Inbred Families) are near-isogenic lines that are useful as a complement to the RIL populations as they allow the quick confirmation of individual QTLs. HIFs were selected in the progeny of RILs that show a single residual heterozygous region. Complete HIF sets covering the whole genome are available.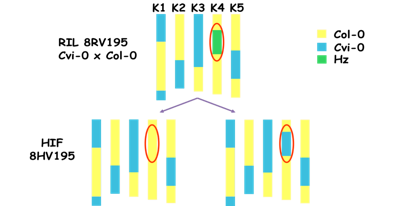 A family is generally composed of 3 lines with the female parent genotype and 3 lines with the male parent genotype at the segregating region. The lines numbered 10, 11 and 12 (for example, for the family 8HV195, lines 8HV10195, 8HV11195 and 8HV12195) have the genotype of the female parent, and the lines numbered 13, 14 and 15 have the genotype of the male parent.
Note that for some families we only obtained one or two lines for one genotype, for example, we may have only one line for the female parent genotype, line 10, with 11 and 12 missing.
Here is the list of all the available HIF populations. You can also use the 'Search' function: if you enter 'AB', you'll get all the HIFs whose name or parent names contain 'AB'
Select from the table below and ...
Loading...